Best Solutions for Product Packaging
At Rocket Machine Works, Inc. in Fresno CA, it is our objective to provide the best possible solutions for your products' packaging needs. We proudly offer the following products: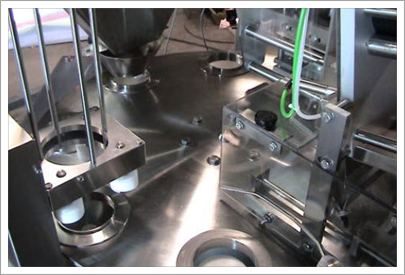 Rotary Machines
Our line of Rotary Machines is a durable, efficient solution when you need solid production without compromising floor space. Made to meet or exceed FDA, NSF and USDA standards, these machines have all stainless steel construction and direct wash down components.
We build several sizes depending on your production requirements, from only one container per cycle to as many as four containers per cycle. Features include cam index and lift motions, no container no fill, no container no seal, and other add-ons such as hopper agitator/level controls, CIP filling stations, mechanical or ink jet date coding, and
accumulating tables.
Contact us about your needs and we will line you up with the best machine for your production.
In-Line Machines
When you need a work horse to get you to the finish line, our Inline models are the perfect choice for repeatable, low maintenance production year after year.
These machines cover a wide range of sizes: Filling from two to six containers per cycle, you will be able to get the job done and on time. Made to meet or exceed FDA, NSF and USDA standards, these machines are all stainless steel construction and equipped with cam indexing and a variable speed drive. These machines will run container sizes from 1" to 8" diameter and heights up to 6 inches. Multiple fills can be mechanical, pneumatic or electro-mechanical. Registered print sealing, over capping and date coding are just some of the functions available.
Contact us and we will work with you to provide the right set up to get you to where you need to be.
Tray Sealing Machines
Rocket Machine Works offers a line of machines for the sealing of trays with no film scrap.
The model 0608 is a manual table top sealer that can seal trays as big as 6" wide by 8" long. It runs on 110 volts and is easy to operate.
Our inline tray sealers offer the same quality seal as the 0608 but in an automated format. The operator only has to load the trays into the belt and it will seal and cut the film and then exit the trays out the end of the machine. These machines are 8 feet long and provide 4 feet of loading area. Longer machines are available upon request.
Stand Alone Sealers/Fillers
When full automation is more than you need, consider our quality line of semi-automatic piston fillers and bench top heat sealers.
Our piston fillers can fill volumes from 1 – 128 ounces in one shot. All construction is of the highest standards and will provide easy, no-tools clean up. It will come with a foot pedal for manual operation or can be configured to fit on an existing line or machine.
Our Table Top Sealers come with servo driven film feed and are completely washdown capable. We use the same tooling and stainless steel that we use in our fully automatic machines for a very reliable unit. These models can handle up to 8"diameter containers or a 6" x 9" tray. They also can run registered film with the addition of a film reading sensor. Options like nitrogen flushing can be quoted
upon request.
Conveyors and Accumulating
Rocket Machine Works offers a wide variety of conveying and accumulating options from straight pack off conveyors to small and large diameter accumulating tables.
Contact us and we will be happy to offer a solution to your production needs.